COLLECTIVE HOUSING IN RIPAGAINA, PAMPLONA
Awarded 14th BEAU. Selected FAD 2018 Prizes
2016-2017
A necessary consequence of the housing crisis should be the end of dwellings as speculative products in order to recuperate their dignity by going back to their original service vocation of attending the needs and hopes of their dwellers.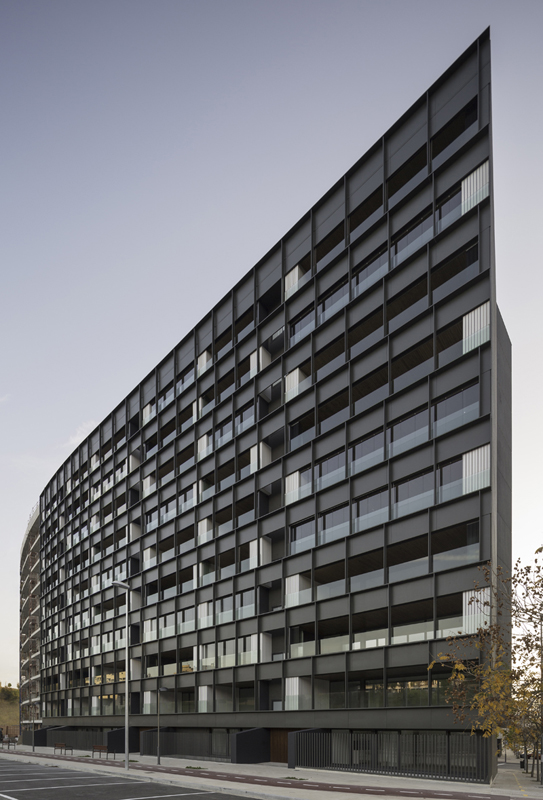 As opposed to recent times when, except for some praiseworthy exceptions, the experimentation in the field of public promotion was limited to a reduced number of actuations in the sphere of public housing, present circumstances, with a diminished market and a grater competition, have favoured the fact that both developers and users are interested in architectonic quality as a really necessary instrument.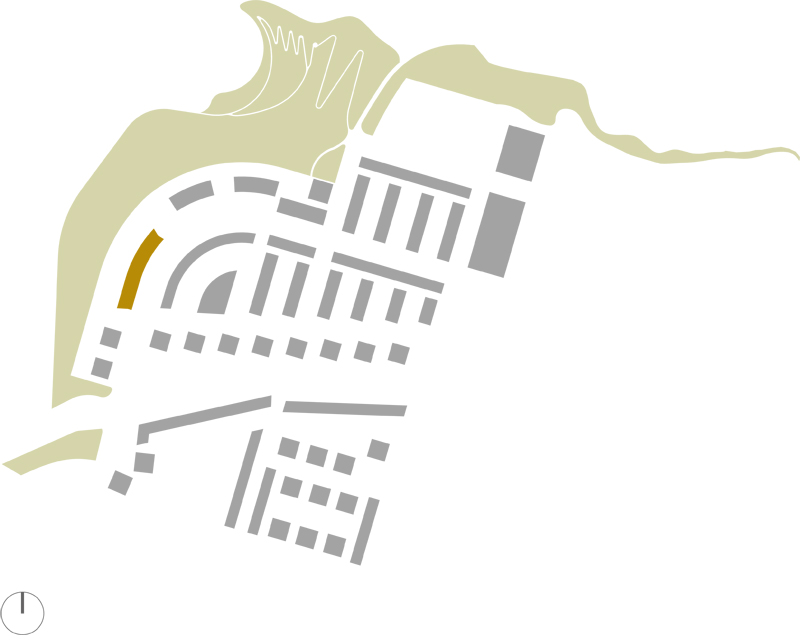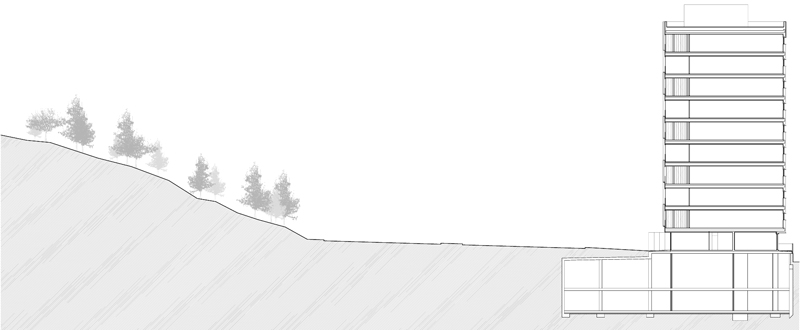 The building is located on the western limit of Ripagaina, next to the Ripa de Beloso park, that links this new part of the city of Pamplona with a pre-existing low-density area. The volumetrics of the project are defined by urban planning, in a border position reaffirming the new neighbourhood, and allowing the relation of the city with the park, of a calm and pleasant nature, to be detailed.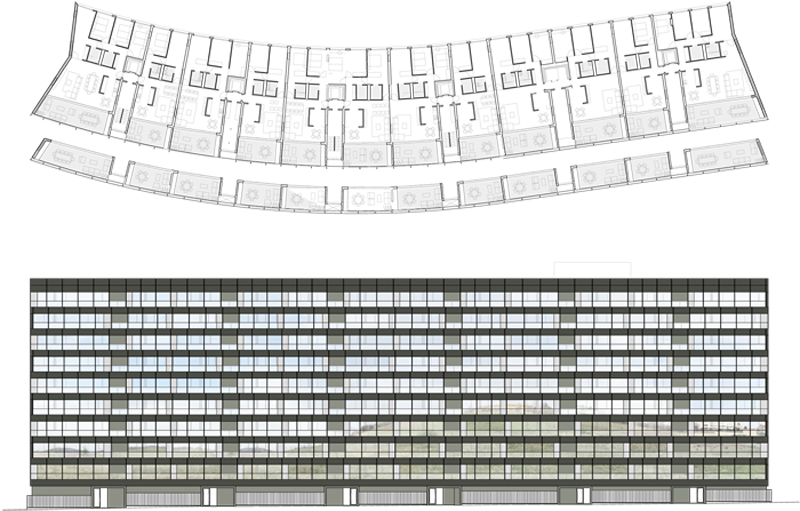 The project aims to explore that relation between the dwelling and the park, attempting a dialogue between them through an "habitable facade" that shades the connection between interior and exterior from the inside hoping to dilute the limits, looking for a visual continuity from the dwelling´s interior towards its pleasant environment, based on the idea of "living in the park"; in correspondence, the building shows the promenade, without complexes, its interior activity and diversity.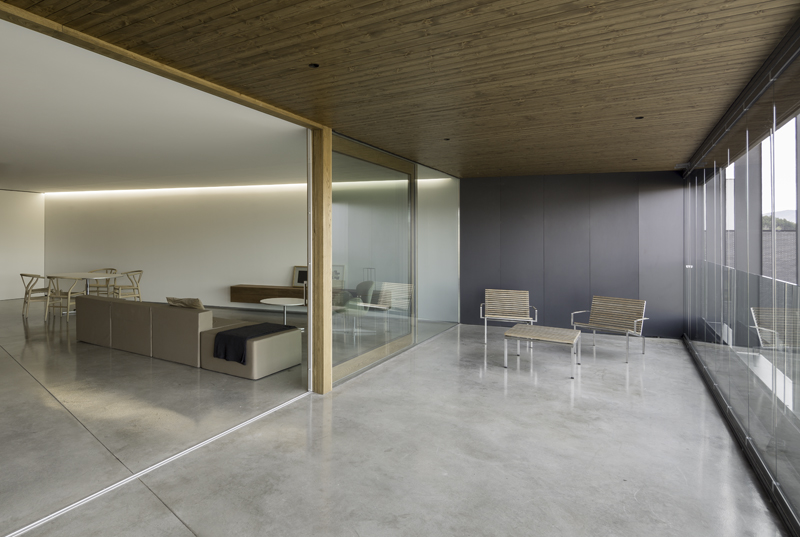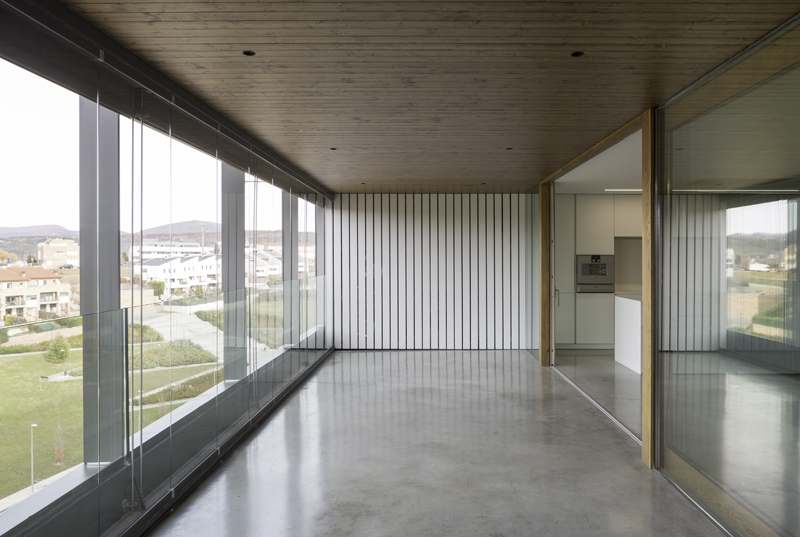 The project attempts to facilitate the maximum possible flexibility, both dimensional and functional. A structure of generous lights and the location of every dwelling's services in a central volume allow for the configuration of floors and the generation of a fluid and flexible space, without the need to go to and for, that adds value and quality to the dwellings, helping in its relation with the park and attempting an easy adaptation to the present and future personal needs of its dwellers.
In the construction of the building techniques that facilitate serialization and prefabrication have been undertaken, keeping always within the local industry sector.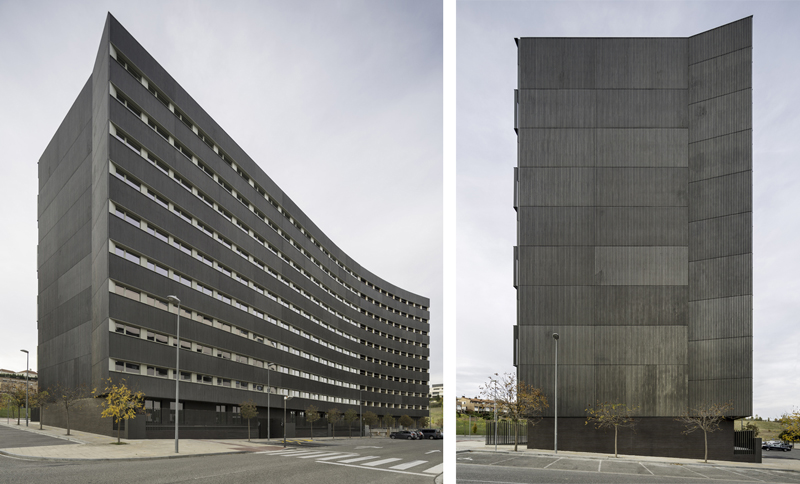 In this way, the facade to the park, of a "mineral" aspect, is built with glass and metal, in modules of hot dip galvanized workshop painted steel sheets that configure a vibrant and open framework that aims to reflect its interior plurality.
The facade is oriented towards the new city and is built with prefabricated concrete panels, its groovy texture and dark colouring giving it a more massive, almost stony aspect. The serial repetition of a unique oblong hollow of generous dimensions procures good lighting quality in the interior protecting the necessary privacy of night pieces.